Today I went on Target.com to take a look at the Our Generation sets, for inspiration of things to sew or make. It seems like the Our Generation line has a lot of variety in the kind of things they offer, but a lot of the items online say "In store only". The Targets that I have been to don't appear to have a lot of variety in the selection of OG items. Nevertheless, I saw some fun stuff!

Photo from Target.com
The 'Snow Bright' outfit is $17.99 on the website. The Aztec print coat looks very cozy for cold days, and could also be worn with jeans or leggings. Warm ups are essential for a doll that loves to play in the snow. They are the best way to stay warm!

Photo from Target.com
This 'Plaid Skirt' outfit is $12.99. Each piece looks very versatile. This outfit would be so cute for a Holiday event!
Photo from Target.com
This is the 'Puttin on the Glitz' outfit, which is $17.99. This dress is so sparkly and would be great for a party. The ruffle at the hemline is so cute. I'm not sure if I personally would pair it with the pink tights, but that's just preference. The hair bows would be great mix n match accessory items. I think this color would look great on Beth!
Photo from Target.com
This outfit, called 'Fluffy Sweater Outfit', is $12.99. It is one of my favorites that I saw. It is so versatile! Rather than tights like the two outfits above, it has leggings. The shorts would be great for summer with a light blue, white or pink matching top.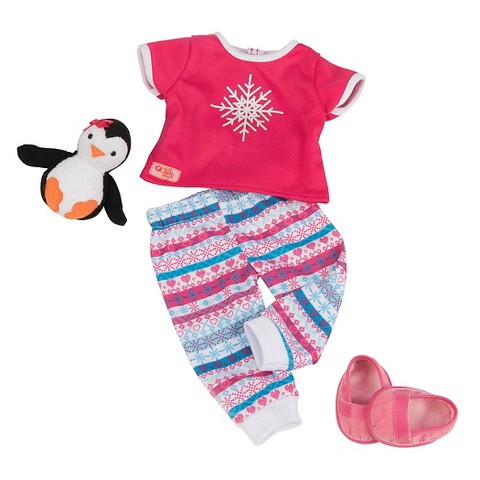 Photo from Target.com
The 'PJs with Penguin' outfit looks so cozy. It is also $12.99. These are adorable winter pajamas!
There were more cute sets, but I'll limit this post to five :) Thanks for reading!
Disclaimer ~ I am not affiliated with any doll company and 100% of this post is my personal opinion.